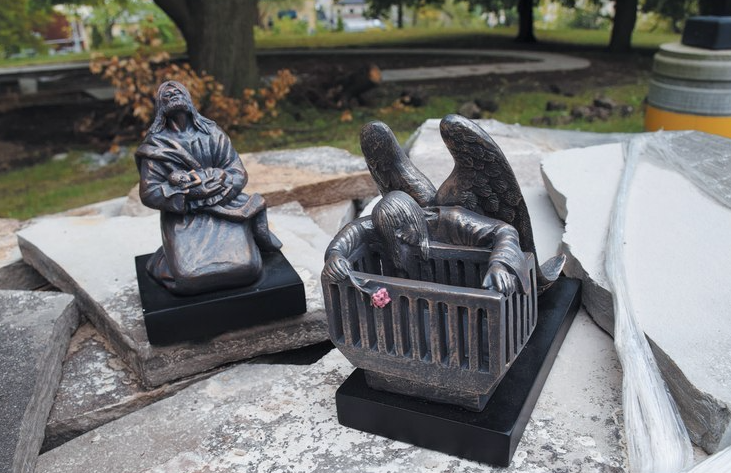 Over the three decades that I have served in pro-life ministry, I have held many women in my arms. There have been those:
desperately seeking the assistance and support to help them carry their unexpected child pressured by family or boyfriends to undergo abortion.
who have screamed and yelled at me because I dared to propose that there was a better way than abortion to deal with an unexpected pregnancy.
who had already undergone induced abortion unable to cope with the aftermath of their decision.
who told me very clearly that abortion was the route they would take no matter what I said or what help I offered.
Many of these girls and women felt that work, education, relationship or family challenges made their path very clear and this did not include carrying their baby to term or considering adoption. So many different faces, lives and life circumstances - yet somehow they each ended up in my arms and we both cried.
There have also been fathers that I supported who had no chance to save their child from abortion or who admitted to me that their lack of support had driven the mother of their child to have an abortion. The grief that these men carry is unfathomable and often shown in violence toward others, abuse, alcoholism or other addictions.
In Canada, there have been almost 4 million abortions over 48 years and so the growth in the number of victims, beside the child that are killed, has been enormous. Society offers and allows abortion as an option; however, many of these mothers and fathers regret their decision and quietly but painfully carry their grief every single day of their lives. No grave do they have to mourn their little one.
So why the Garden of Grace? A few years ago I had an inspiration to provide a space for all parents who grieved the loss of these tiniest of children. I ran the idea by a colleague of mine who had experienced abortion and she was so over- whelmed she could not speak. Finally she told me that the Garden of Grace would be a gift from God for her and the millions of other mothers and fathers who have no place to grieve their loss. Many of these babies are named and will be remembered in our beautiful garden which we hope will be a silent witness to the grief and sorrow carried in so many hearts across our land and a place of healing and remembrance.
The statues (see picture) will be placed in April and we have an official opening set for May 31st 2017 which is the Feast of the Visitation.
The Garden of Grace will be dedicated to the memory of Denise Brazolot who was a great pro-life warrior. Denise had nine living children and experienced six miscarriages, and we are certain that she will be a Guardian Angel for our garden. I cannot thank Peter Brazolot enough for making it financially possible to complete this amazing project.
Our thanks also extend to Bert Tami who has purchased our first statue. For all donors, our committee, our volunteers and, of course, a special thank you to Father Noon for allowing us to have the garden under the shadow of the Basilica of Our Lady Immaculate.
We will need an army of gardeners the last week of May to assist with the final planting, erecting the bench and gazebo, and many other last minute jobs. I would ask for your prayers for this new ministry on "Catholic Hill" and heartily welcome you all to our official opening at 2.00 pm on May 31, 2017. Our garden will be for everyone of every faith who has suffered the loss of a child before birth. We welcome them with open arms and pray that the Garden of Grace will provide solace, reconciliation and joy to all.